ADVANCED PAINT PROTECTION FILM
Durability with a 10-Year Warranty


CMG Detailing is a licensed dealer & factory-trained installer for XPEL clear bra paint protection films.
PROTECT YOUR INVESTMENT
XPEL Clear Bra, aka Paint Protection Product films protect the leading edge of your vehicle against the damage caused by rocks, gravel, salt, or insects, through the application of a thin and virtually invisible urethane paint protection film.
These Ultimate Films are self-healing, have an unparalleled gloss finish (or a matte finish), and carry a 10-year warranty against yellowing, cracking, peeling, staining, and hazing, covering both film and labor.
Many of today's high performance/high end cars are styled with wide, flared front fenders, air intake hood vents, and sculpted front bumpers. While these features are functional and attractive, they pose significant challenges to even the most experienced installer.
LASER CUT PRECISION FOR A PERFECT FIT
CMG Detailing offers a pattern for virtually every make on the road. Every pattern is laser designed and model-specific for a perfect fit every time, with no need to cut on the vehicle. Some models have such a demand that patterns are designed to cover the entire vehicle. If there isn't a pattern available, we can install custom kits from bulk film.
If you have or are thinking of buying a new vehicle of any model, whether it's a daily driver, exotic, truck, minivan, or any high end vehicle, why not "Drive a new car every day" and "Protect your investment" before paint damage occurs. We have a paint protection film to keep you covered —no matter what you need to protect.
APPOINTMENTS BY PHONE: (262) 675-4429
Pricing: Please call for quotes, coverage areas, and warranty information. (9 hours — Price varies)
If you are interested in seeing what paint protection film can do for your vehicle, call us or request a consultation.
3 Protective Film/Clear Bra Coverage Options



Full Front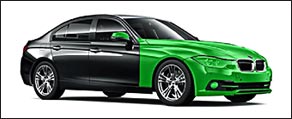 This is our #1 Best Seller. Providing you with excellent coverage on the front end. Protecting the most volatile areas without all the seams. (Pricing and coverage vary based on size and model of vehicle.)  Schedule a Consultation
Full hood
Full fenders
Full bumper
Headlights
Mirror faces
Door cups
CMG Detailing wrapping a new Audi S8 with Xpel Stealth paint protection film.
Watch more CMG Detailing videos on YouTube
Paint protection film removal.